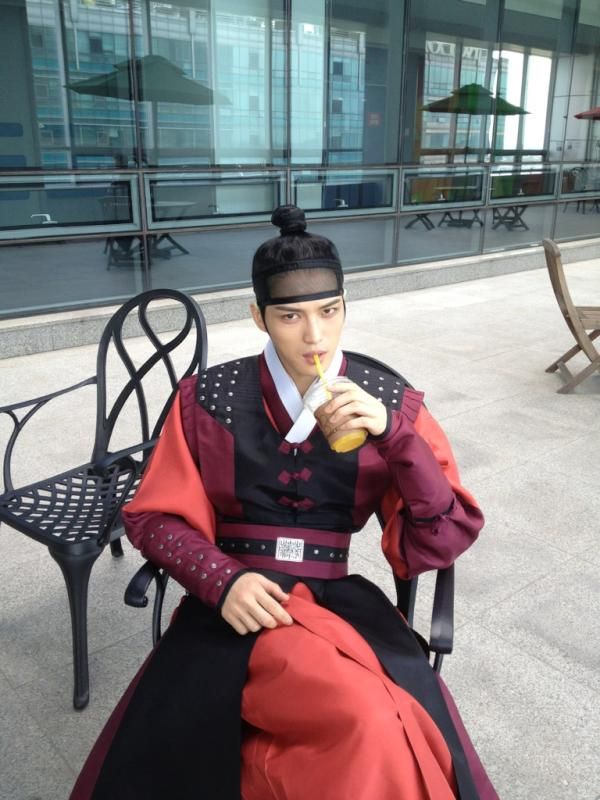 Jaejoong is donning traditional Korean wear for his upcoming drama's poster and has tweeted a photo of himself in it. On May 2nd, Jaejoong tweeted, "Dr.Jin fighting!" The picture showed Jaejoong in traditional Joseon-era military wear, resting and enjoying a drink between shooting for the drama's poster.
Jaejoong's Time Slip Dr.jin will premiere on May 26 and will also star Song Seung Hun and Lee Bum Soo. The drama is an adaptation of a 10-year running Japanese manga on a talented surgeon in modern day Korea suddenly finding himself in the 1860s during Korea's Joseon Dynasty.
Credit : enewsworld
JYJ's Jaejoong gets into character for his new drama, "Time Slip Dr.Jin"
JYJ's Jaejoong captured his fans attention after posing a new photo of himself dressed as his new drama character. On May 2nd, Jaejoong shared the above photo via his twitter page and wrote, "Doctor Jin, fighting!".
The photo looked to be taken during the poster photo shoot for the new MBC TV drama "Time Slip Dr.Jin" that airs it's pilot episode on may 26th.
"Dr.Jin" is based on the Japanese manga of the same title by Murakami Motoka, and is a medical drama to tell the story of the best Korean surgeon in 2012 who travels back in time to the Joseon Dynasty in the 1860's. Jaejoong will be playing the role of skilled martial arts artist, Kim Kyung Tak.
Fans who saw his new photo commented, "Looks so good on him!", "Exudes charisma," and "Looks like he's shooting lasers out of his eyes."
Credit : Allkpop
Shared by : JYJ3 + sph_mirahara